---
---
Amid ongoing agrarian crisis, India has certainly found a ray of hope emerging with Agricultural technology taking the reins. The new government policies and acceptance of advancing technology in agriculture can consequently bring colors for the farmers. Additionally, as per the latest estimates by the Central Statistics Office, the country's Gross Domestic Product (GDP), which was 51.9% in 1950-51, has come down to 16% in 2019-20. This contribution is abysmally low for a nation with the maximum livelihood in agriculture. However, this is mainly due to the farmers' inability to generate high income from their crops and curb their rising debt.
---
So, the question of the day is:
What are the ways to culminate better agricultural practices?
Don't panic. Consequently, some startups have come up with certain innovative agricultural technology answers to the above problem. So, today we're discussing: The top 8 notable innovations that can help the farmers in real-time.
Let's get started!
---
---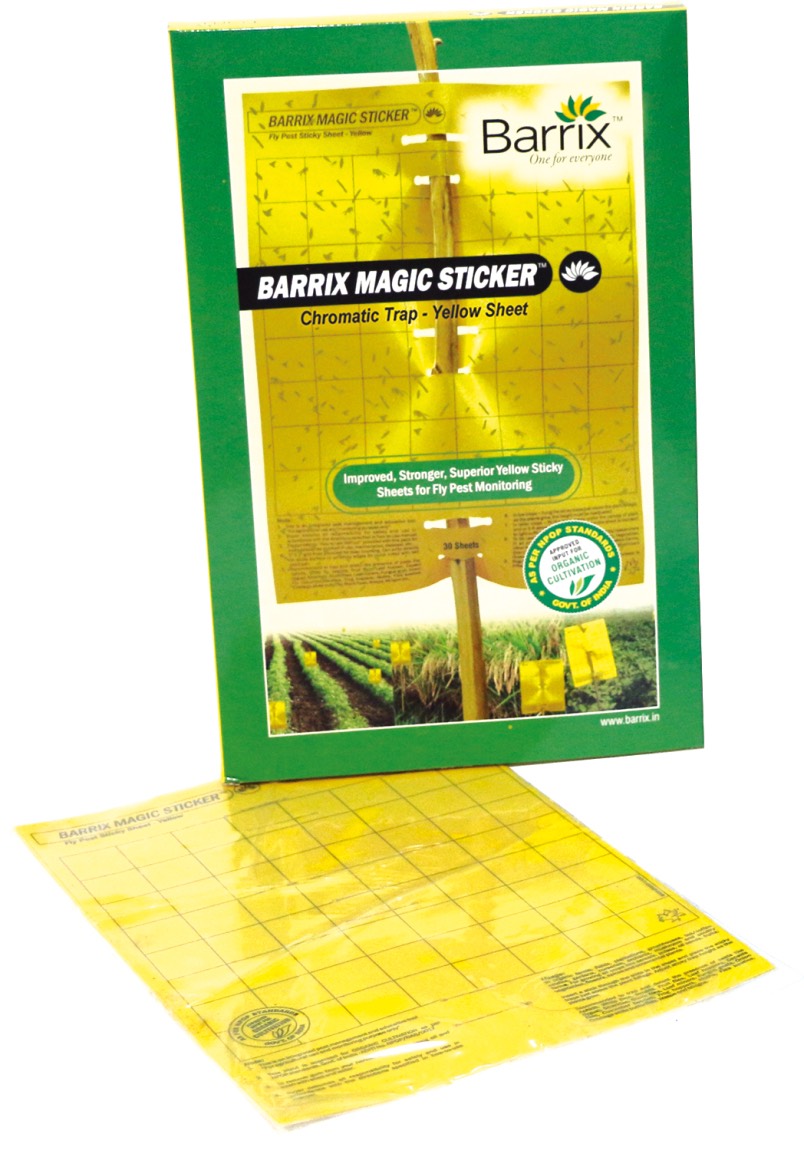 The Bangalore-based company develops eco-friendly crop protection ways with the help of pheromones. Additionally, with its in-depth study and organic farming techniques, the yields were found boosted up to 317%.
Products
a. Barrix Catch Fruit Lure + Trap: Besides expensiveness, toxic pesticides also leave behind harmful residues after use on the farmland. However, Barrix's pheromone-based pest control traps the artificially synthesized smelling agents which attract pests. Thus, no more damage to crops from the pests.
b. Fly pest sticky sheet: Blue and bright yellow recyclable sheets are subsequently used to attract and trap at least 19 high-risk pests from a distant location. Also, the wavelengths of the sheets are placed between 500-600 nm.
---
This Mumbai-based agricultural technology company is involved in the "Efficiency Agriculture" space. In other words, it emphasizes on increasing soil fertility to achieve higher productivity with lesser resources.
Product
BIOSAT: Biochar based organic soil amendment technology (BIOSAT) is a soil additive certainly made of biochar mixed with different organic nutrients. This product has numerous benefits for example,
Firstly, preserves soil fertility.
Secondly, traps carbon emissions.
Thirdly, maintains topsoil strength.
As a result of all, increased crop production. Thus, it has reduced the farmers' dependency on chemical fertilizers.
---
Machines, Information, Technology, Resources for Agriculture (MITRA) is a Nashik-based agricultural technology startup. They aim certainly to improve mechanization at horticulture farms by using R&D and high-quality farm equipment.
Product
Air Blast Sprayers: These sprayers are used to add hormones that are necessary for any crop growth. It also reduces the expenditure on manual labor and so, are less time-consuming. Moreover, it was developed for fruits and vegetables in general, or grapes and pomegranates to be specific.
---
This is an agricultural technology solutions startup founded by a Bangalore software engineer. The company subsequently deliver decision-making tools that bring consistency, dependability and sustainability to agro-business in real-time.
Product
CropIn offers information on a cloud-based platform, also integrated with a mobile app for android. It certainly allows large food companies to track the growth of crops in their farms nationwide. Thus, it helps companies to monitor remotely their farms and interact with farmers about each crop's growth and quality in real-time. Not only this, but it also aids farmers to improve productivity by offering yield insights and harvest forecasts.
---
This Vijayawada-based startup missions to accelerate the use of technology in aquaculture. Consequently, this area has always been a threat to the farmers as there's no way to measure and control water health.
Product
Solar-powered floating buoys: To help in monitoring the aquaculture ponds, the company has therefore, developed solar-powered floating buoys. This can measure various water parameters, for instance, oxygen levels, temperature and pH crucial for the growth and survival of fishes and shrimps. The collected information is further uploaded on the cloud and sends to individual customers through the app, SMS, voice call and otherwise. Additionally, farmers can remotely control automated technologies like aerators and feeders.
---
This is considered India's largest weather monitoring and agri-risk solutions. As per their website, they're experts in measuring, predicting, and limiting climate risk to agriculture, thus reducing losses incurred due to bad weather conditions.
Product
To aid farmers, the website offers various services for example weather forecast, crop insurance and agri-risk management. Undoubtedly, early prediction of drought or floods can subsequently save the farmers from huge losses by adopting appropriate preventive measures.
---
Ekgaon Technologies, a Gujarat located venture, is an IT-based network integrator. From financial or agricultural inputs to government assistance, this technology platform consequently offers a range of services to rural farmers.
Products
(a) Financial: It provides information on microfinance institutions and banks for delivery of doorstep services for example credit, savings, remittance, insurance, investment, mortgage and many more.
(b) Agricultural: With the tri-lingual system, the site certainly uses voice recognition, interactive voice response system (IVRS) and other web technologies to provide weather-related information, commodity's market price, soil nutrients, etc.
(c) Governmental: The web also helps citizens to keep updated with each new government programmes and services entitled to them.
---
This is a non-profit international development organization that concentrates on training farmers to create short videos about their problems, share solutions and also highlight success stories. As a result, this gathers a larger engaging audience which can improve other rural community lives across South Asia and Sub-Saharan Africa with the help of a platform.
Products
(a) Firstly, it uses a cost-effective and scalable technology-enabled behavior change communication to produce and share locally relevant information through videos.
(b) Secondly, there are two social online games viz, Wonder Village and Farmer Book where the players have to stimulate a village economy. As a result, this can help farmers relate how to effectively enhance their farmland.
---
To sum up
So, this was all about how modern startups are emerging with new modern agriculture technology techniques. As we discussed above, these techniques can boost the nation's agriculture yield is certainly all aspects. So, if you liked the blog, please share this piece of information with your kith and kin. Hope to catch you in my next blog also till then keep reading, keep supporting!
---
Meanwhile, read our other amazing solar technology blogs below.
---
---
Further references
---
Further image Source
WeChoose,
Blogger,
Karamgarh,
Medium,
Eruvaka,
Skymet,
Ekgaon,
YourStory,
Industry Wired
---
---
Liked this?? Further read
---
---
Latest posts by Puja Lohani
(see all)