Smart Farming is the new buzz in the agricultural technology of India. Many farmers are showing interest in implementing various smart farming techniques, as a result, we can say Smart farming in India is going to be the future of agriculture. So, today we'll discuss a complete guideline to smart farming which is a part of AI-based agriculture. AI in agriculture is certainly the most important part of evolving it from conventional farming. (See this- 7 ways AI in agriculture is transforming as never before). Without consuming any further moment, let's get started!
---
What is smart farming?
Smart farming is certainly concentrated on the use of data acquired through various sources, be it historical, geographical, or instrumental, in the management of farm activities. Such farming methods employ hardware (IoT) and software (SaaS) to record the data and thus give actionable insights to manage all the pre- and post-harvest operations. Further, this recorded data is accessible anytime from any corner of the world.
The system performs many functions, for example, reduce waste, develop products, and enable management of a greater number of resources through distant sensing. These are also called 'Precision Farming.' Smart farming is important due to many reasons like-
Firstly, expanding global population,

Secondly, increasing demand for advanced crop yields,

Thirdly, the use of natural resources efficiently,

Fourthly, growing used and sophistication of information and communication knowledge and

Fifthly, increasing need for climate-smart agriculture.
---
Differences between Conventional and Smart farming
Conventional Farming.
It has certainly the same set of practices for cultivation of a crop throughout the region.
Geo-tagging and Zone detection are not possible in such cases.
Subsequent errors occur due to manual maintenance of all the field and finance data.
There is no chance for weather prediction.
Many a time, it is unknown of which area needs fertilizers and pesticides and which not. As a result, the whole farmland gets fertilized. This leads to a decrease in overall crop yield.
Smart Farming:
Each farm is firstly analyzed to see the suitable crops and water requirements for optimization.

With the help of satellite imagery, zone detection is also possible in the farms.

It further saves money by early detection and applicating preventive measures of flood or drought upcoming regions.

Both prediction and analysis of weather are possible.

With the help of simple digital reports, field and finance data can be, therefore, tracked easily, showing the profits, yields and patterns.
---
Benefits of Smart Farming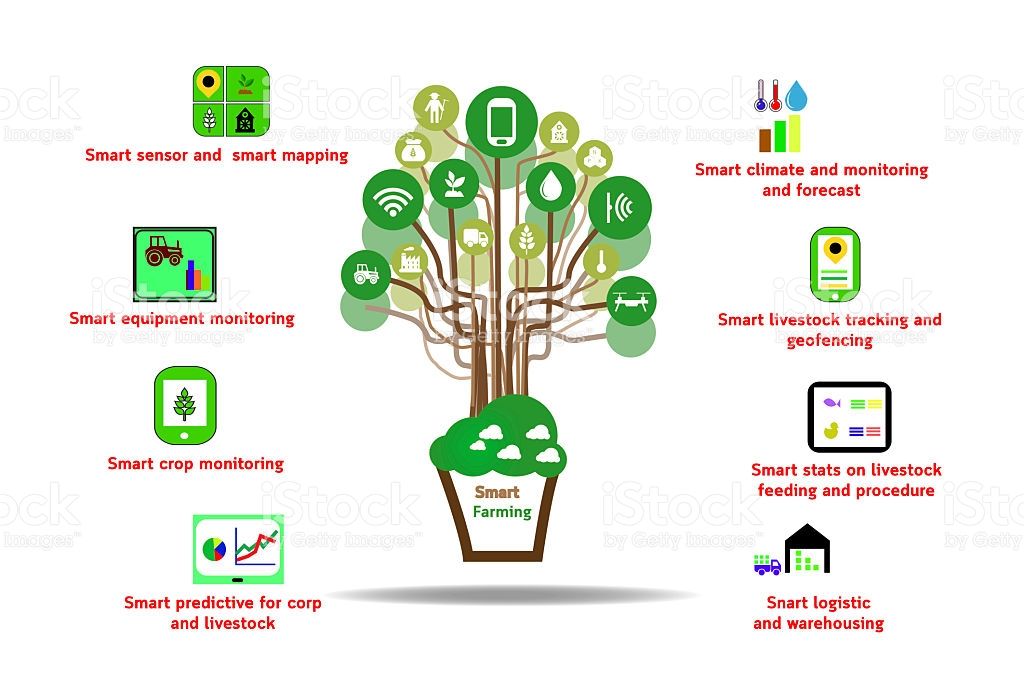 Reduce wastage

.
It enables careful management of the demand forecast and release of goods simultaneously to market just in time to reduce waste. Smart farming certainly emphasizes on the supply of land, concentrating the right agricultural patterns, for example, moisture, fertilizer to provide enough product for each crop.
Software for business management

.

Further, the types of smart farming systems implemented is dependent on the use of software for the management of the business. Control systems firstly manage sensor input, secondly delivers remote information for supply and thus decision maintains. Additionally, it enables the automation of machines and equipment for solving the emerging issues along with product support.
User-friendly

.

Besides decreasing wastage, smart farming is solely user-friendly and cost-effective. Moreover, the moment of breaking the glass ceiling is that you can see the slightest anomalies in your crop growth or livestock health. Thus, you can mitigate the risks of losing yield. Meanwhile, through automation, you can achieve better control over product quality and volumes.
Reduced environmental strain:
Not only this, but it can also have environmental benefits like a reduced strain on the environment. With a better approach, smart farming can minimize the wastage of useful chemicals and nutrients thus present on the farm.
---
Technologies in smart farming
The smart farms use a wide variety of technology including:
(a) Sensors for soil scanning and water, light, humidity and also temperature organization.
(b) Advanced networking and GPS telecommunications technologies.
(c) For specialized applications, the use of hardware and software along with enabled Internet of Things (IoT)-based solutions, robotics and automation is thus required.
(d) Data collection is certainly the most important element of smart farming as the data quality availed from crop yields, soil-mapping, climate change, weather data and fertilizer applications escalates continuously. So, data analytic tools for decision making and prediction are a must.
(e) To gather a total field's data, satellites and drones are certainly the credentials to smart farming. Also, this information is transmitted to IT systems for tracking and analyzing the same. Thus, making remote monitoring possible. In other words, an "eye in the barn" situation is thus, made possible.
The technologies possible for the present-day farmers from the above list are:
(a) Firstly, sensing technologies for soil scanning, water, light, humidity and temperature management.
(b) Secondly, software application solutions to target each specified smart farm.
(c) Thirdly, cellular communication technologies.
(d) Fourthly, geo-tracking technologies for example GPS.
(e) Further, IoT-based solutions, Robotics and Automation hardware and software technologies.
(f) Lastly and most importantly, data analytic tools for decision-making and prediction process.
---
Application fields for Smart farming
There are overall seven application areas for this kind of farming. They are:
1. Fleet management – tracking of farm vehicles.
2. Arable farming, large and small field farming.
3. Livestock monitoring.
4. Indoor farming – greenhouses and stables.
5. Fish farming.
6. Forestry.
7. Storage monitoring – water tanks and fuel tanks.
---
Wrapping up
Thus, smart farming concentrates on the application of acquired data and combining it from various data sources to create a bigger picture for managing all the farm activities. Robotics, automation and cloud software systems are subsequently tools for such farming practice. Robotics, drones and sensor equipment placed throughout the farms can certainly collect data. This data is further processed to produce farm insights. Also, cloud-based software can be used to collect the data on the farm. Likewise, this data is further processed to receive the relative reports to weather patterns, yields, irrigation and satellite imagery, and off-farm – such as markets and dealer availability to perform predictive analysis.
Hence, this was all about smart farming, its differences, benefits and the technologies used in it. Summing up, we hope you liked it. Also, please share this informative blog with your kith and kin. Hope to catch you in our next blog, meanwhile do go through our other amazing technology blogs below. Till then, keep reading, keep supporting!
---
---
Further read
---
---
References thereafter:
---
---
Liked this?? Further read
---
Latest posts by Puja Lohani
(see all)