Certainly, we often find the "green label" on food products showing its organic production history. But, have you ever thought what the same label means in the world of fashion? Yes. Today we're going to discuss what is an eco-friendly clothing? And what are some prominent certificates for the same?
Before proceeding further, we recommend you to go through our organic cotton related blog once you read this. So without consuming any more time, let's dive deeper into our main topic.
---
What is sustainable fashion or eco-friendly clothing?
Eco-friendly clothing is certainly the clothing made of natural fabric materials instead of toxic, polluting precursors. In other words, eco-fashion is about making clothes concerning the environment, consumer's and workforce's health. Their precursors include organic raw materials for example organic cotton, linen, hemp or bamboo, etc. It can further include, Recycling or Upcycling: It helps in reducing the harmful pesticides which are used as dyes. These days old polyester garments are recycled to make a new polyester fabric. Recycling not only reduces waste and pollution but also requires lesser energy to generate new fabrics.
So, eco-friendly clothing is becoming more fashionable and as a result, there arises a large number of brands. They're sprouting out with beautiful collection and designs of such clothes.
---
Benefits of opting eco-friendly clothing.
1. Reduction in pesticide level
Most of the clothes are made of cotton which requires a high amount of pesticides meanwhile cultivation. By wearing eco-friendly clothes, you're reducing the number of pesticides that harshen the soil quality.
---
2. It reduces toxic waste
With each eco-friendly clothing, you save up to .6 km of CO2 driving emissions. Furthermore, cotton clothing requires ⅓ of a pound of chemicals for a t-shirt. That amount really adds up and is disastrous for the overall environment.
---
3. Supporting Fair Trade
With each cloth you buy under the Fair Trade Act, you've reassurance that the manufacturing process didn't involve any sweatshops and that the working conditions of employees were safe. Thus, you can support human rights as well as protect the environment.
---
4. Unique collection of clothes
Hitting up a vintage shop will mean that you have clothing pieces that no one else will have. Mainstream clothing is mass-produced and subsequently, as such, it is not uncommon for a single piece to be owned by different people. Thus, going for eco-friendly clothing will increase your individuality.
---
5. Your clothes won't harm you
We often hear severe allergic reactions due to chemical fabrics on various people. However, you can save yourself from this situation by going for eco-friendly clothing. With no addictive dyes and harmful polyester fabrics, your skin could shimmer and healthier.
---
6. Supporting animal rights
Clothes of leather or fur certainly demand the death of many wild species of the ecosystem. For many, the guilt of indirectly playing a role in such an act is too much. By switching to cruelty-free eco-friendly clothing, you have a sheer assurance that your fashion didn't exploit any living being.
So, now you've all the facts with you why to choose eco-friendly clothing fashion. However, beforehand setting these into your wardrobes, it is must to know if that green mark on your organic cloth is really for real or not! Don't worry, we've gathered all possible credentials for you. Therefore, below is the list of some prominent fashion certifications to consider before buying any eco-friendly clothing stuff.
---
Important Ecolabels required.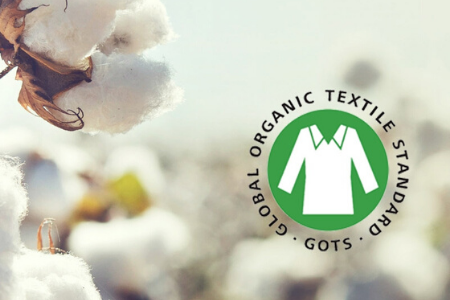 It's one of the most trustworthy and wholistic certifications. GOTS is certainly the worldwide leading textile processing standard for organic fibers. It also includes ecological and social criteria, backed up by independent certification of the entire textile supply chain. It further consists of a number of processes from manufacturing and packaging to trading textiles. With this, textile processors and manufacturers are enabled to export their organic fabrics and garments with one certification subsequently accepted in all major markets.
Items getting certified: Textiles, for instance, clothing, bedding, towels, and raw fabrics. You can also surf their public database as per categories here.
---
Another authentic certification, with their mission certainly to create trust in textiles and leather production. They thrive to attain this firstly through increased product safety, secondly improving sustainable production and then a sustainable, transparent value-creation chain. Also, they offer a vivid variety of certifications but as a consumer Standard 100 is the most common for you. Other certifications for example
Firstly, Leather Standard (for toxic substances in leather),
Secondly, Made in Green (ensures safe, responsible and environment-friendly production processes),
Thirdly, STeP (focused on the supply chain),
Fourthly, ECO PASSPORT (emphasizing on more environmental factors),
Further DETOX TO ZERO (considering water wastage and sludge).
Items getting certified: Raw materials, fabrics and textiles as well as ready-made goods for example apparel, accessories, home goods, etc.
---
It's certainly a non-profit organization which encourages a sustainable way to cotton production through a defined set of standards. Furthermore, the Better Cotton Growth and Innovation Fund (Better Cotton GIF) makes strategic investments into Better Cotton projects. Thus, supporting the Better Cotton Initiative in reaching its 2020 targets. Moreover, when you see the BCI logo or 'On-Product Mark' on the packaging, it does not mean the product is made of physically traceable Better Cotton. It certainly means that you're buying a majority cotton product, from a retailer or brand that is committed to sourcing Better Cotton and investing in BCI Farmers.
Items certified: Anything made from cotton.
---
THE BLUE WAY by BLUESIGN represents the vision and mindset of responsible and sustainable manufacturing of textile consumer products. Powered by a holistic approach, the certification traces each textile's path along the manufacturing process. Thus, making improvements at every stage from the factory floor to finished product. BLUESIGN certainly changes the environmental impact of textiles for good. Also, as a solution provider and knowledge broker, BLUESIGN acts as an independent verifier to secure trust and transparency.
Items certified: Anything made from textiles.
---
Cradle to Cradle Certified™ is a globally recognized measure of safer, more sustainable products certainly made for the circular economy. From fragrances to flooring, t-shirts and jeans to water bottles and window treatments, thus, thousands of products are Cradle to Cradle Certified. Moreover, it restricts the product under five categories. That is to say, material health, reutilization, renewable energy and carbon management, water stewardship, and social fairness. Any product under testing thus receives an achievement level from Basic and Bronze to Platinum.
Above all, the company not only focuses on the production but also the circulation process. Hence, everything we make, buy and own is ideally circular.
Items certified: From apparels, home goods, toys to furniture and cleaning supplies, everything can be C2C certified!
---
To sum up
So now, we hope you're convinced enough to go for the eco-friendly clothing route. As everything that shimmers isn't gold likewise everything that labels green isn't eco-friendly. Therefore, one must check the above-mentioned certifications over the apparel or fashion wear beforehand buying.
Hope you liked the blog, also do share it with your family and friends. Hence, see you in our upcoming blogs, till then keep reading keep supporting!
---
---
References thereafter
---
---
Liked this?? So, you'll love these
---
---
Latest posts by Puja Lohani
(see all)